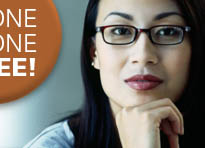 Purchase One Eyeglass Frame
and get a Second FREE FRAME!
Everyone can use a spare frame!

Free Frame Eyewear is the Perfect Combination of
Value & Service. We carry the finest eyeglass frames.
Collections include Gotham Premium, Gotham Flex, Gotham Steel,
2000 and Beyond Premium, Eyeconomy,
Broadway & Trendspotter.
We are constantly adding to our collection of eyeglass frame styles.

Every order from Free Frame Eyewear ships with a second frame
absolutely FREE! You can order two of the same frames or select from
any other in-stock eyeglass frame from our extensive collections.
Buy two, get two more free! There is no purchase limit.